Personalized Gold Plated Cremation Necklace - Memorial Necklace made with ashes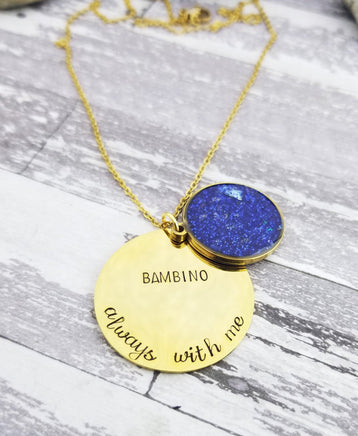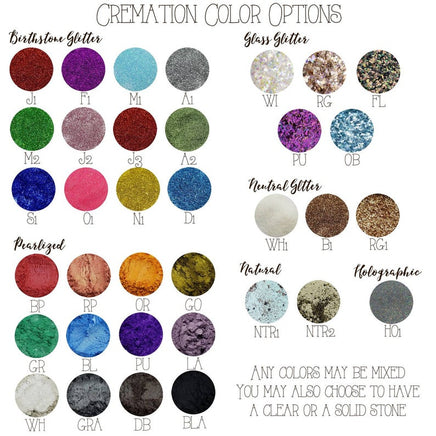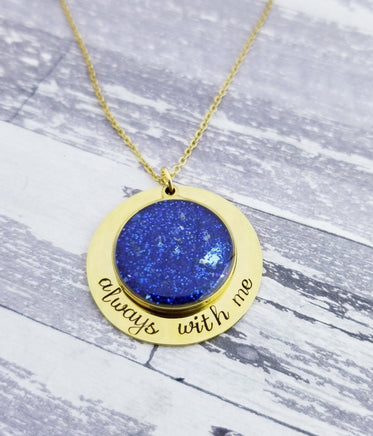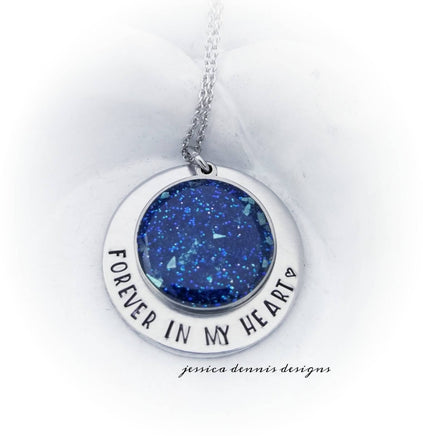 This beautiful gold plated or silver stainless steel cremation necklace is made using your loved one's ashes. The outer pendant measures 1.25" and has been stamped "always with me". The words can be changed by leaving a note during checkout. The inner 1" pendant features any stone color you'd like, which will be infused with the ashes you send us. This piece can also be made using hair, grave dirt,  or funeral flowers.
Please leave a note stating the stone color and up to 8 characters to be stamped behind the cremation pendant and the stone color you'd like. 
Please see the color chart for all stone options.  The color pictured is S1 (September birthstone). 
 After you've ordered:
Please ship in a zip lock bag inside of a well sealed envelope or bubble mailer to:
Jessica Dennis Designs
4607 Del Mason Rd
Bellaire, MI 49615
You may choose to ship priority with insurance and tracking.
Q: How much should I send?
A: Ashes- 1 TEASPOON* of ashes is enough for up to 5 rings or 3 necklaces. If there are unused ashes after your piece has been made, you will recieve them back with your order.
*If you fail to put enough postage on ashes when shipping them to me, you will be required to pay the overdue postage before I can get the package from my post office. Please only send 1 teaspoon of ashes to avoid this.
A: Hair- A 1 inch by 1 inch piece of hair is enough. If you don't have that much, send what you have. Any unused hair (if any) will be sent back with your order.
***Please include either your order number and  first and last name inside of your package***
On March 26th, 2017 I lost my 7 year old son to DIPG brain cancer.  He was cremated and I gained an enormous passion for helping others grieve by making cremation jewelry for them. I wear my sweet angel in a ring and necklace every day.