Home
→
Products
→
Personalized Hand Stamped Necklace - You choose Names and Birthstones or crystal colors - New Mom Mother's Day Gift - New Baby - Grandma
Personalized Hand Stamped Necklace - You choose Names and Birthstones or crystal colors - New Mom Mother's Day Gift - New Baby - Grandma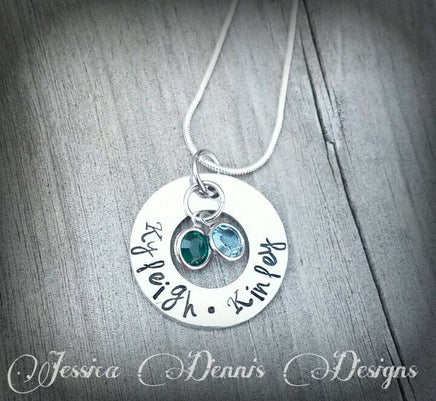 Personalized Washer Necklace
Up to 3 names & 3 Swarovski birthstone crystals
Great personalized gift for any mommy. The 1" hypoallergenic grade aluminum washer disc is hand stamped with the name(s) of your choice. Birthstone crystal(s) are included on each washer disc. You will receive a silver plated snake chain.
Aluminum is a great alternative to sterling silver, as it is hypoallergenic and will NOT tarnish!
**UPON ORDERING**
Please choose the number of names/crystals you'd like on your necklace and:
Please leave a note to seller at checkout including:
•The name(s) UP TO 3 you'd like on the disc
•The birthstone(s) or color crystal(s) you'd like.
Please note that each letter is individually personally hand stamped by me and although I do my very best to line up and space letters perfectly, they may not always be perfect. This is not considered to be a defect, but rather a hand-made Item. I will not ship anything that I personally wouldn't be pleased with.
To see my other hand stamped items, please visit jessicadennisdesigns.com ♡