Home
→
Products
→
Rainbow baby Necklace - Memorial Necklace - Mother's Necklace - Mother's Jewelry - Birthstone necklace - Personalized - Hand Stamped
Rainbow baby Necklace - Memorial Necklace - Mother's Necklace - Mother's Jewelry - Birthstone necklace - Personalized - Hand Stamped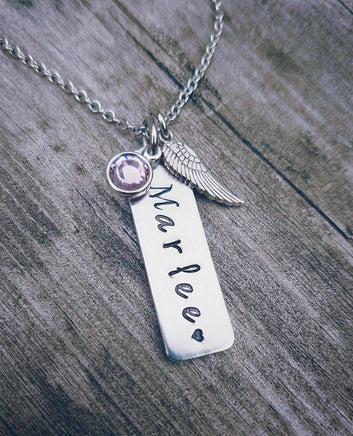 Please see shop announcement prior to ordering, for turnaround time and other important information
This beautiful keepsake necklace is very special. It holds the name of your child in heaven. It is a common misconception that the parents of angel babies do not want to talk about them, almost like they did not exist. But they did! The mother wearing this necklace will appreciate the acknowledgement of all of her children, here on earth or not.
You may choose up to 10 characters and 1 birthstone for your necklace by simply leaving a note to seller at checkout including the information needed to complete your order.
The hypoallergenic grade aluminum disc and rectangle are durable and will never tarnish!
To see my other hand stamped items, please visit jessicadennisdesigns.com
Please note that each letter is individually personally hand stamped by me and although I do my very best to line up and space letters perfectly, they may not always be perfect. This is not considered to be a defect, but rather a hand-made Item. I will not ship anything that I personally wouldn't be pleased with.