Home
→
Products
→
Teen Dogtag * Arrive Alive Don't Text and Drive - Keychain * New Car * New Driver - Cross - Teen Boy - Guy Gifts - Mixed Metals - Name
Teen Dogtag * Arrive Alive Don't Text and Drive - Keychain * New Car * New Driver - Cross - Teen Boy - Guy Gifts - Mixed Metals - Name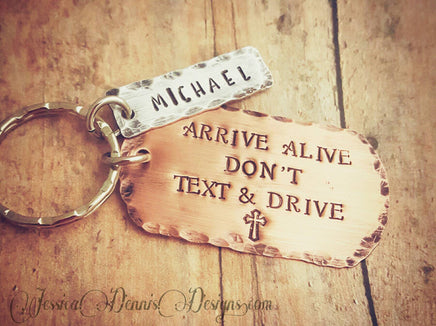 *Please see shop announcement prior to ordering, for turnaround time and other important information*
Hand stamped keychain. Great gift for a 16 year old getting a car for his/her birthday or becoming a new driver and perfect reminder to keep their hands in the wheel, not their phones, while driving!
To Personalize:
Please leave a note to seller at checkout including the NAME you'd like on your keychain.
Texting While Driving Is:
1. About 6 times more likely to cause an accident than driving intoxicated
2. The same as driving after 4 beers – National Hwy Transportation Safety Admin.
3. The number one driving distraction reported by teen drivers
Texting While Driving:
1. Makes you 23X more likely to crash – National Hwy Transportation Safety Admin.
2. Is the same as driving blind for 5 seconds at a time – VA. Tech Transportation Institute
3. Takes place by 800,000 drivers at any given time across the country
4. Slows your brake reaction speed by 18% – HumanFactors & Ergonomics Society
5. Leads to a 400% increase with eyes off the road
341,000 crashes in 2013 alone were a result of texting & driving! Raise awareness!
•I accept custom orders!
•I cannot stamp the backs due to the slight impression hand stamping leaves on the back side.
Please note that each letter is individually personally hand stamped by me and although I do my very best to line up and space letters perfectly, they may not always be perfect. This is not considered to be a defect, but rather a hand-made Item. I will not ship anything that I personally wouldn't be pleased with.
To see my other hand stamped items, please visit jessicadennisdesigns.com
"Like" Jessica Dennis Designs on Facebook for special offers, giveaways, and promotions!
Facebook.com/jessicadennisdesigns