Home
→
Products
→
Pennies from Heaven * Hand Stamped Necklace * Choose your Year * Heart Stamp * Angel Wing * Memorial Jewelry *
Pennies from Heaven * Hand Stamped Necklace * Choose your Year * Heart Stamp * Angel Wing * Memorial Jewelry *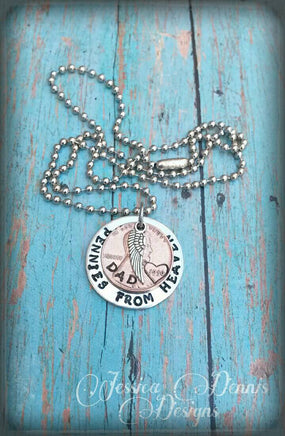 Please see shop announcement prior to ordering, for turnaround time and other important information
It is often a belief that our passed loved ones will leave pennies or other coins in unusual places along our paths as a sign that they are watching over us. This necklace is a special reminder that our loved ones are always watching over us.
This custom designed necklace is a nice piece of memorial jewelry that will easily become your go-to piece. I've hand stamped a 1" silver disc to say "Pennies from Heaven" and added a penny with a heart stamp around the year, along with a small angel wing. The year can be any that is significant to you. It can be the birth year of your loved one, or even the passing year. This is your choice. I find the pennies for you, unless of course you have a special one you'd like to send me, in which you will need to contact me to arrange shipping etc.
Upon ordering, please leave a note to seller at checkout including the year of penny you would like on your necklace.
If you would like to upgrade to a different style chain, please use the following link to purchase an upgrade:
https://www.etsy.com/listing/211623567/chain-upgrade-can-be-purchased-for-any
Please note that each letter is individually personally hand stamped by me and although I do my very best to line up and space letters perfectly, they may not always be perfect. This is not considered to be a defect, but rather a hand-made Item. I will not ship anything that I personally wouldn't be pleased with.
To see my other hand stamped items, please visit jessicadennisdesigns.com
For special offers and promotions, please "like" my Facebook page:
Facebook.com/jessicadennisdesigns